It's that never tiresome topic of "basic modeling skills," again. Recently, a colleague wrote an insightful blog post about the problem with slinging the term "basic modeling skills" around. If you'd like to read that you can click here to read "Not so Basic Modelling Skills."
I do suggest you read it, it's a solid argument on the topic, but the contents aren't really important to continue with this post. What is important is that, like these topics always do, this one brought out the "basic modeling skills" virtue signaling Wanksocks; which is always fun. I mean the Wanksock's mascot went as far as to call it "the stupidest thing" he'd ever read. Bold comments coming from someone who couldn't get through thirteen minutes of a video without saying "um" and "uh" seven-hundred times. Besides, I've seen what this dude posts in Facebook groups. Surely he's read some of his own comments at least occasionally?
The reaction has got me wondering, though. Why do these guys have such a fucking hardon for "basic modeling skills?" And what I've determined is they are basic bitches.
Now, don't get me wrong, there are some basic things you need to know how to do to successfully build models. Like the article linked above, I would ask…what's basic? But it doesn't matter. The basic bitches will tell you. It's filling and sanding. That's it. That's all it is. Filling with putty and fucking sanding. How do I know this is the only fucking thing they consider basic? Because it's all they talk about when the go on their "basic modeling skills" rants.
You have to remember where this shit comes from. It all started when some modelers had the audacity to give honest reviews of kits.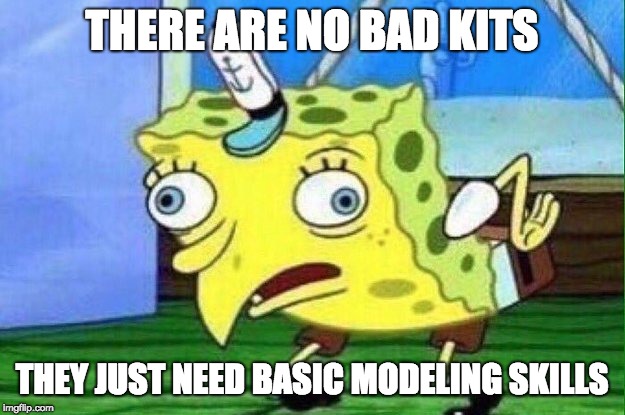 Yeah, it's the same ole conflation bullshit. Nothing new. But it always ends with a few of the basic bitches screaming about how you just "NeEd To LeArN tO uSe ThE pUtTy, DuFuS!"
So, what makes these basic skill worshiping bitches so basic? It's all they have, and it's basic. They've realized they completely lack the artistic capabilities to make a model interesting with painting and weathering, so they build their whole modeling identity on their ability to do the most mundane, simple tasks; the ones that require absolutely no talent. They are proud of their mastery of the basics because they have no advanced. They are basic bitches.
Just like Candie with an "ie" can't fucking think for herself when she's shopping for shoes and ends up at the Starbucks getting her basic coffee wearing her basic Uggs, these idiots can't offer anything unique to the world of modeling. And they've apparently figured it out, so "basic modeling skills" has become their own little slave morality. That's a wasted analogy because it requires a reading level higher than "Clifford the Big Red Dog."
I'm going to go to bed and dream of all the awesome comments telling me to kill myself the basic bitches are going to leave from fake accounts. Stay advanced, homies.